Exclusive Ibiza villa for rental
follow Ibiza with all it has to offer in terms of beaches, nature, culture, good wine, fine dining, nightlife and sun
for a perfect Ibiza vacation
This three bedroom Ibiza villa for rental is located high on the hill, overlooking the San Vicente bay.
With spectacular sea sunrises and
Ibiza sunsets
, unlimited views towards the northwestern Mediterranean Sea.
From the Ibiza villa rental, you can enjoy a 180 degrees view of the sea and beach, with on the left the island of Tagomago, to the right Cala San Vicente and opposite Agua Blanca.
Take a look at many other video's of this special Island, on other pages of this website.
Vicinity of your Spanish villa in Ibiza
From this Spanish villa, a pleasant 12 minutes walk down the hillside (or 3 min. drive) you have the
Cala San Vicente Beach of Ibiza
. A quiet and child-friendly bay with a wide sandy beach, the perfect Ibiza vacation place to go with your family or for a romantic stay with your loved one and dining in one of the fine
Ibiza restaurants
that are well known to the Ibicencos (locals).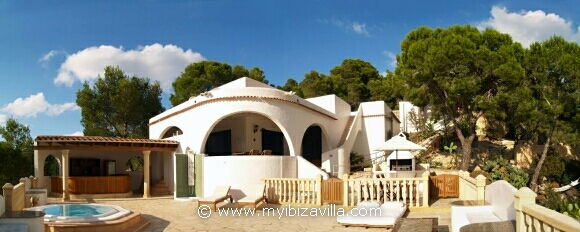 Location of the villa Ibiza
Cala San Vicente is situated in the north-east of the island, 25 min. drive from Ibiza-town and 15 min. drive to the
Ibiza golf course
. Near your villa Ibiza, you can also rent a
tennis court
and take part of
scuba diving in Ibiza
. If you come by boat, you can moor in the harbour just meters from the beach.
This Spain villa has 5 terraces on different levels:
At the near the entrance hall of this Spain villa, breakfast can be enjoyed, whilst admiring the wonderful view.
Steps going down from the upper terrace to the with gas-barbecue.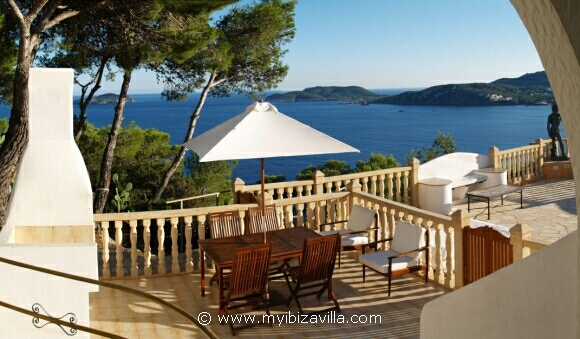 The has a bar and a whirlpool (jaccuzi for 6 persons) and an outside shower. The bar is provided with a big fridge and a wine cooler. There is also access to the shower room with a twin 'rain-dance' shower.

The of this Spain villa has different levels where you can enjoy sunbathing in privacy.
NEW from 2009 In the winter of 2008-2009, we have created an , an outside recreation area for the whole family. This terrace has as well a wonderful sea view. This terrace is in the rock-garden, with sand from the beach as base. Sun dappled shade from the tree in the middle, ideal for relaxing with a book or sunbathing with a natural filter on those very hot days. This new terrace is as well perfect to awaken your mind, body and spirit by practicing yoga on the beach sand and let the reddish light of the sunrise shine on your face.
Inside this Holiday villa
Inside the holiday villa is a , with satellite-tv, video, DVD, stereo.
, one double and 2 twin rooms, all with built-in wardrobes, fan and electric heating for the cooler winter months.
Sheets, (beach) towels are provided and a washing-machine is also available.
This Romantic villa has also 3 bathrooms
Inside the holiday villa, near the bedrooms are 2 bathrooms, one with bath/shower, wc, bidet and sink (+heating) and one shower-room with wc and sink.
Near the sun-terrace is a 3rd bathroom where you can cool down under a two persons 'rain-dance' shower & enjoy a massage-shower, there is also a bidet, sink and 2 wc (one ladies and one gents)
This Romantic holiday villa, has ample parking space and sleeps up to 8 persons.
Look and listen with stereo headphones our new video of an Ibiza sunrise
on this Ibiza yoga vacation terrace, Listen to the soothing sounds that nature produces in the early hours at sunrise and you will feel a deep relaxation.
The relaxation you are looking for on a holiday.
Take a break from the grayness of everyday life routine
to follow Ibiza on white beaches where the rumors of the traffic is only a fade memory,
or in front of red sunsets where your tired heart will be able to breath again.
This entire website concerns just one privately owned Ibiza villa for rental, and it has the best panoramic sea view of all Ibiza villas.